ElectroGravitic Propulsion System
Under Construction
Gravitics Update 2013
I began in 1996 deciphering an ElectroGravitic tech from the Dogu statues and constructed models along the way that I used as visual teaching aids to help me learn this strange new gravitic technology. I get the distinct feeling that a purely mechanical approach is far more appealing to you vs. some abstract experimental lab toy and it should be!
QEG Power Plant
The QEG device above is similar to Tesla's radiant energy receiver (RER) in that it consist of an antenna, coil and spark gap-tank circuit oscillator plus a bridge rectifying circuit w/LED. Ambient electromagnetic energy collected by the waveguide-antenna is converted via the coil and rectifying circuit into dc current and used to charge a 6-volt battery. In turn the battery is used to load the tank circuit oscillator and discharge across the spark gap electrodes. Thereby setting into motion a perpetual state of one or more forms of energy changing from one form of energy into another form of energy f.e.g. magnetism into electricity.
Not to mention I decoded the necessary components needed for gravitic propulsion that had been encoded in the Dogu, which depict a 3-phase synthetic crystal oscillator powered by a Self-Cooling Superconductor.
Moving forward the plan is to build a PCB and use it to skip over the superconductor. The PCB or Wireless Energy Transmitter (WET) will be used to mimic the superconductor so that we can continue to work with the gravitic propulsion system.
Otherwise having the superconductor manufactured would cost $50,000.00 or more! While it might be possible to hack a superconductor together for now its easier and less expensive to use a battery powered circuit and keep the gravitic tech moving forward.
I haven't priced the cost of the WET circuit but I am sure I can get it built for around $200.00. I actually asked the PCB manufacturer if he would build it for free as a contributor but I haven't heard from him in a while. So Ill have to ask for a quote but I'm sure it will be less than $200.00.
I built the WET circuit that you see in the photo above from used PSU parts and made the circuit board but it didn't work after I completed it so one or more of the used parts must have been defective. This is one of the main reason it needs to be professionally built also I don't have any diagnostic skills or test equipment to figure out what actually went wrong with this WET circuit.
Meanwhile I have installed the new landing gear servo so now the landing gear is actuated and opens/closes by servo actuation. Made and installed plastic brackets to support the idler pulleys and installed larger drive-pulleys, the only other mechanical thing I could do on the lower half of the wing would be to install a pull-pull servo and actuate the landing nose gear steering.
Not sure how important steering the nose gear is unless the plane has to taxi up to speed before taking off, extra features cost more time and money…but ground steering could be an important function lol.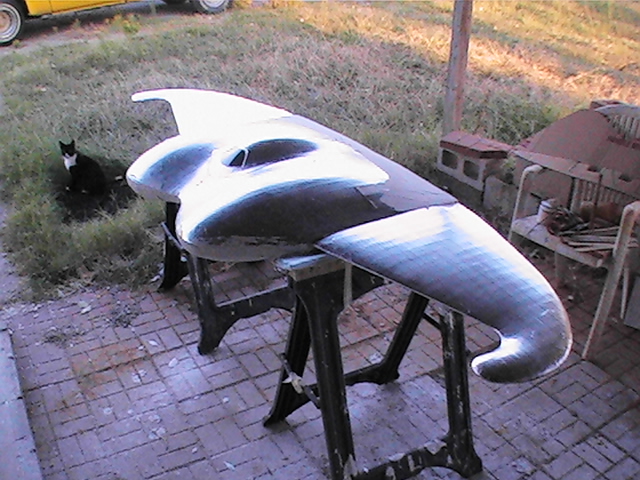 EGV3 Gravitic Wing
Looking forward to a warm day when I can make a new lightweight fiberglass copy of the body, which was rendered to heavy after using drywall mud to do body work to the canopy.
Kind of thinking I should go ahead and make the landing gear doors and the closure edges on the body. So that when I make a new copy its as complete as it can be and I don't have to go back and do more work to it other than assembling it.
To The Gravitic Enthusiast : 02/13/2013
Show your support for this important groundbreaking research by ordering items from my eBay!
eBay URL link to view and order items for sale in support of this tech